Gesine Bänfer
plays shawm, saxophone, whistles, bagpipes and 18th-century English guitar. She founded her first girl band "Jawbone" at the age of 13, in which she sang and played guitar and drums. She was a singer in a rock opera and a saxophonist in dance combos and big bands before specialising in historical woodwind instruments. She learnt shawm with Katharina Arfken in Basel, Switzerland. With this instrument she was a prizewinner at the prestigious early music competition of the Festival van Vlandern, Bruges and was winner of the Belgian BRTN radio award. Her research into medieval wind music has gained international recognition, and she regularly gives lectures on the iconography of historical wind instruments at universities and music colleges throughout Europe. For her bagpipe playing she was a prizewinner at the Festival Rencontre Internationales de St.Chartier (France) and received two awards from the German Pop Foundation for "Best Wind Player" and, with Contraband, for "Best Folk Rock Band". As a pedagogue, she received her training in Waldorf education at the Free University of Freiburg / Stuttgart. As a music producer, she founded her own independent label Ahalani-Records. She has four daughters and two grandchildren and lives with her family in Freiburg im Breisgau.
Female Musicians in History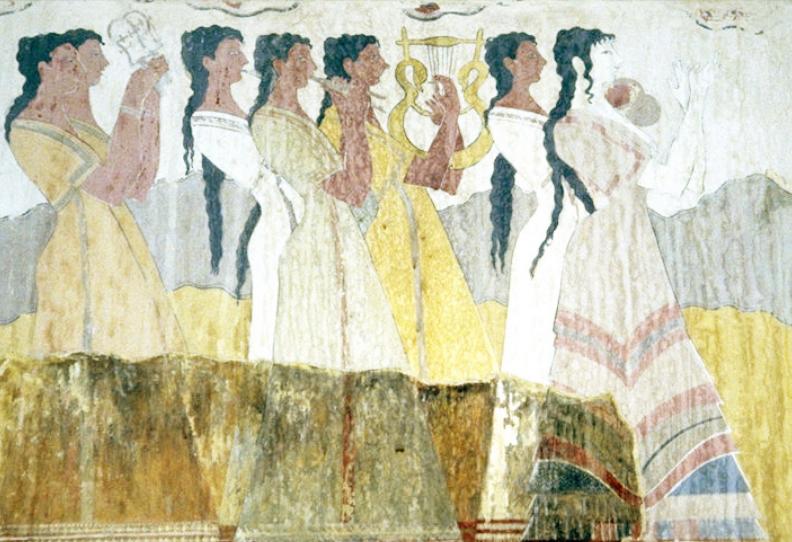 "Maybe you don't remember, and yet I want to tell you: Someone will think of us in a time to come." Sappho - poet, composer, musician, priestess of Aphrodite, 7th century BC
anon., fresco of a sacrificial procession, Procession corridor of the New Palace in Knossos, Crete (1000-1400 BC)
Where are all the women?
Following the traces of female musicians in iconography and literature in history

In the 5th century b.C. Herodotus describes how women played the Aulos in the Egyptian temple-city of Bubastis, to honor the cat goddess Bastet. Throughout early antiquity, shawm instruments were initially the instruments of women. As well as frame drums and percussion instruments, shawms belonged to the cult of mother deities. They were the instruments of the powerful priestesses who played at religious ceremonies, sacrificial acts, ancestral cults and funerals. They paid homage to Cybele, goddess of fertility and earth. This picture changes in the Middle ages and Renaissance - there are hardly any depictions of female musicians. What happened? Are they really missing? Did they not exist? Do the surviving images of female musicians present a real situation?
In order to correct a gap in historiography, I give lectures on this topic and set up the Facebook page female musicians in history which is intended to collect and share information about this topic.