Old Spices - Alte Gewürze
An erotic journey through time with spicy songs from the Middle Ages, Renaissance and Baroque
We will play our forthcoming tour with the line-up:
Gesine Bänfer - whistle, bagpipes, old English guitar, vocals
Jule Bauer - vocals, nyckelharpa
Katherine Christie Evans - vocals, gittern
Christine Hübner - percussion, vocals
Steven Player - comedian, dancer, baroque guitar, vocals
Riccardo Delfino - harp, vocals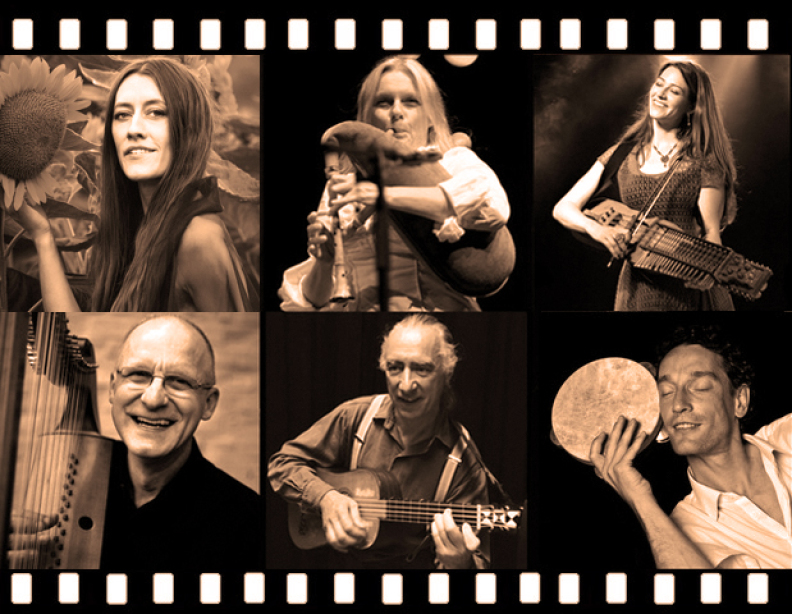 In their new project Old Spices, the musicians of the Early Folk Band deal with the erotic fantasies of the past. At this festival of provocativeness, the six recognized specialists in early music bring to the stage songs from the Middle Ages, Renaissance and Baroque about desire and being desired. On this musical quest for traces, they exchange ideas about female and male identity and cultural role models of the past. The versatile multi-instrumentalists accompany themselves on their historical instruments. There is singing, flirting, dancing, laughing and crying during the concert.
The Musicians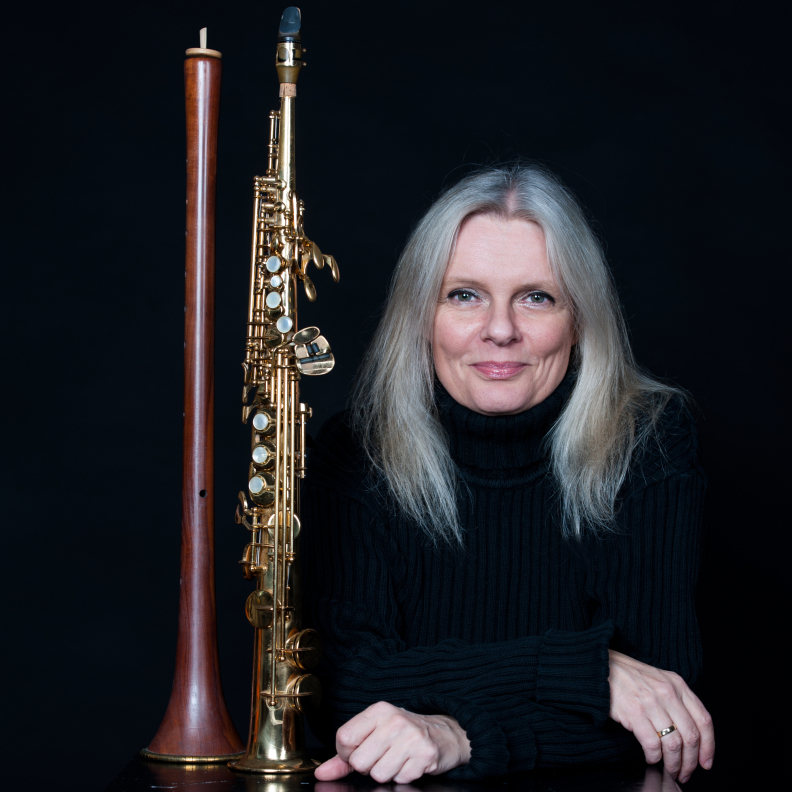 Gesine Bänfer (DE) is a woodwind player and, in addition to shawm, whistles, various bagpipes and old English guitar, also plays soprano saxophone in other projects. In the 35 years of her professional activity as a musician, she initiated and supervised many projects and played at a high level with musicians from all over the world - "with irrepressible joy of playing and a real desire to experiment with the musical material". She founded her first girl band Jawbone at the age of 13, sang for many years as a singer in a rock opera and played the saxophone in dance combos and big bands before specializing in historical woodwind instruments. With her shawm she is a prizewinner at the renowned early music competition Festival van Vlandern, Bruges and winner of the Belgian BRTN radio prize. For her bagpipe playing, she was honoured by the Festival Rencontre Internationales de St. Chartier (France) and received two prizes from the Deutsche Popstiftung as "Best Wind Player" and for the "Best Folkrock Band". As a music producer, she runs the independent CD label >>ahalani-records<< | >>gesine-baenfer.de<<
Jule Bauer (SE) vocals, key fiddle (nyckelharpa)
Vocal training with a focus on early music, including with Diane Severson and Franziska Schaefer-Vondru (Frankfurt). Master classes with Cornelius Reid, Carol Baggott-Forte, Marco Beasley and Montserrat Figueras. Studied nyckelharpa at the Scuola di Musica Popolare di Forlimpopoli (Italy). First graduate of the "European Nyckelharpa Training". Studied musicology and music education at the J. W. Goethe University (Frankfurt). International concerts and recordings with various early music, folk and world music ensembles (Triskilian, Cadence, Asfur, Oro, Capella Antiqua Bambergensis, Nyckelharpatrio Passerelle, MetaMorPhonica, Oni Wytars). Teaching singing and nyckelharpa at various courses for early music and world music in Germany, France, Italy, Spain and Belgium. Lecturer for nyckelharpa and singing at the Burg Fürsteneck Academy (D) and the Scuola di Musica Popolare di Forlimpopoli (I) Website: >>sonnenklang.de<<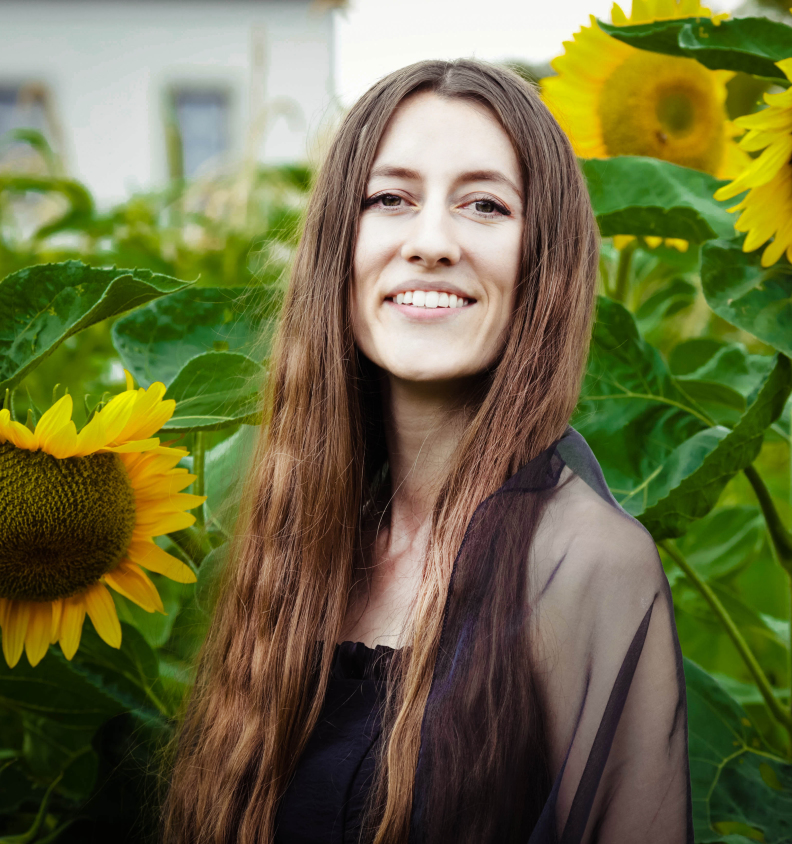 Katherine Christie Evans (GB) comes from a long line of musicians. She has a passion for early music and heavy rock and plays medieval guitar (gittern), electric guitar, bass and drums. As a bassist, she has toured the UK and Europe with various punk and rock bands. As a session singer and instrumentalist, she can be heard on many recordings ranging from folk metal to soul to synthwave. She writes her own music, which she describes as a mix of heavy rock and other random influences, including classic rock of the '60s and '70s. In 2021 she released her first solo EP Hert so Hy (available on Spotify, Apple Music and on Bandcamp) a collection of medieval love songs from Europe that she researched and arranged. Katherine lives in Birmingham, where she is studying for a Masters in Audio Engineering at the Conservatory. >>katherinechristieevans.co.uk<<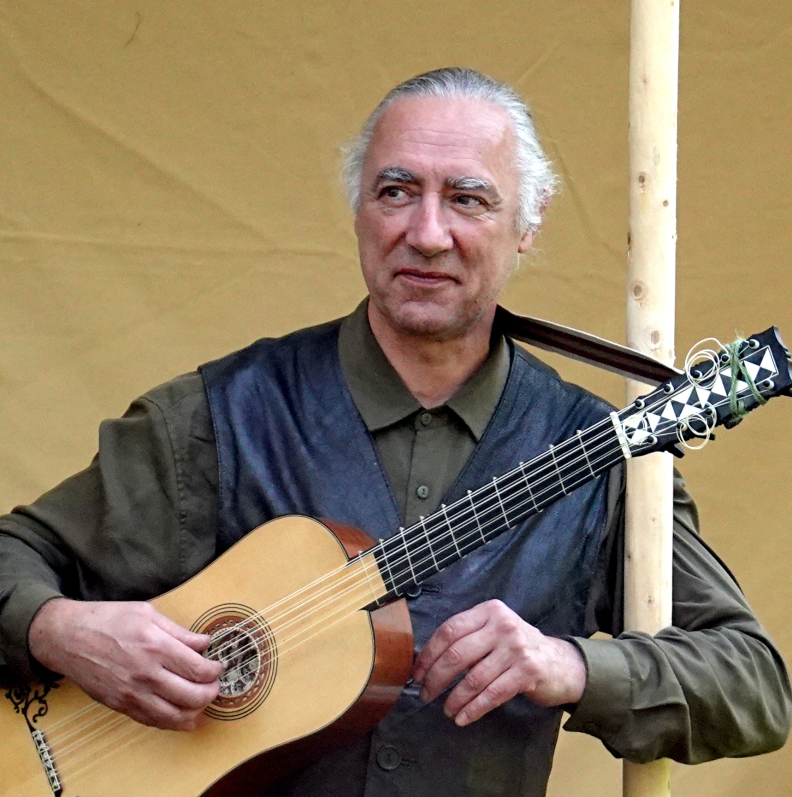 Steven Player (UK) is a comedian, dancer and musician all in one. Inspired by the original manuscripts, he breathes new life into the historical dances of the Renaissance and Baroque periods, always with a wink in his eye and a joke around his neck. As a baroque guitarist, he has worked in concert and recording with the best musicians and ensembles in the field of early music, including in the USA with Apollo's Fire and La Nef and in Europe with groups Los Otros, The Harp Consort and The Alehouse Boys. With the Society of Strange and Ancient Instruments he has created a new interpretation of the Morris Dances with the program Nine Daies Wonder. He has choreographed and taught for television, theatre and opera from the north coast of Norway to the southern tip of Australia.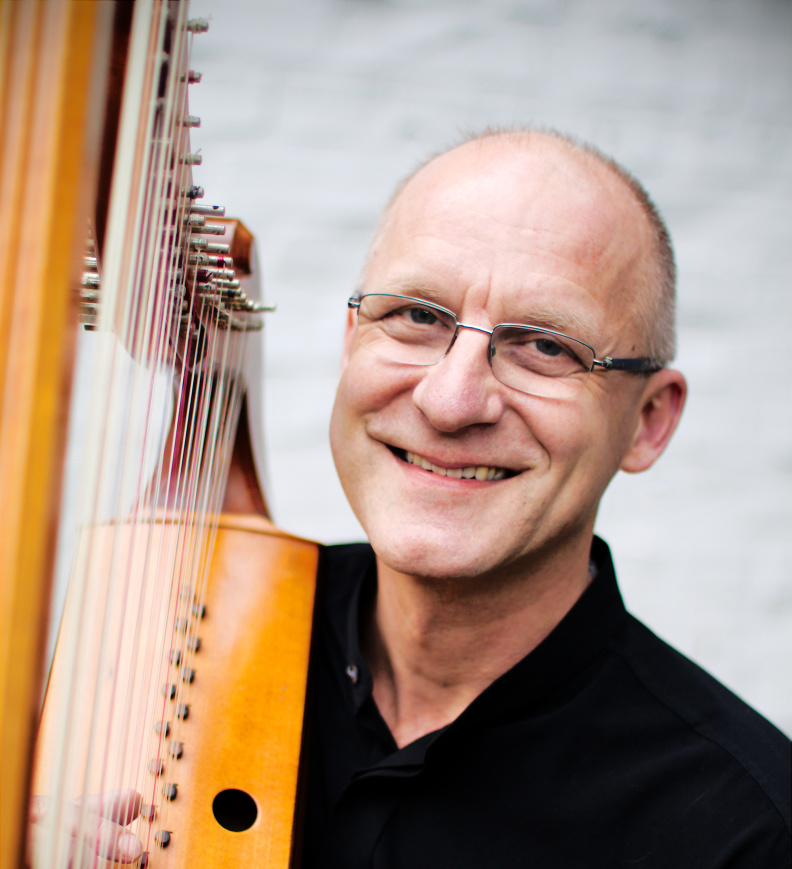 Riccardo Delfino wurde 1963 in Krefeld (D) geboren. Nach seiner Klavier-und Celloausbildung beschäftigt er sich intensiv mit europäischer Folklore und dem entsprechenden Instrumentarium. In seiner Jugend bereist er als Straßenmusikant ganz Europa und erforscht die historischen Wurzeln der traditionellen Musik. 1990 absolviert er die Musikhochschule in Göteborg mit dem "University Certificate in Music" für Alte Musik. Er spezialisiert sich auf Drehleier, Dudelsack und historische Harfen. Seit 1982 spielt er in verschiedenen internationalen Ensembles für Alte Musik wie "Oni Wytars" (D), "Ensemble Unicorn" (A), "Accentus Austria" (A), "Le Concert Spirituel"(F), "Les Menus-Plaisirs du Roy" (B). Diverse Anstellungen als Theatermusiker, internationale Kurs- und Konzerttätigkeit, über 80 CD-Aufnahmen, zahlreiche Fernseh- und Rundfunkproduktionen. Webseite: >>riccardodelfino.eu<<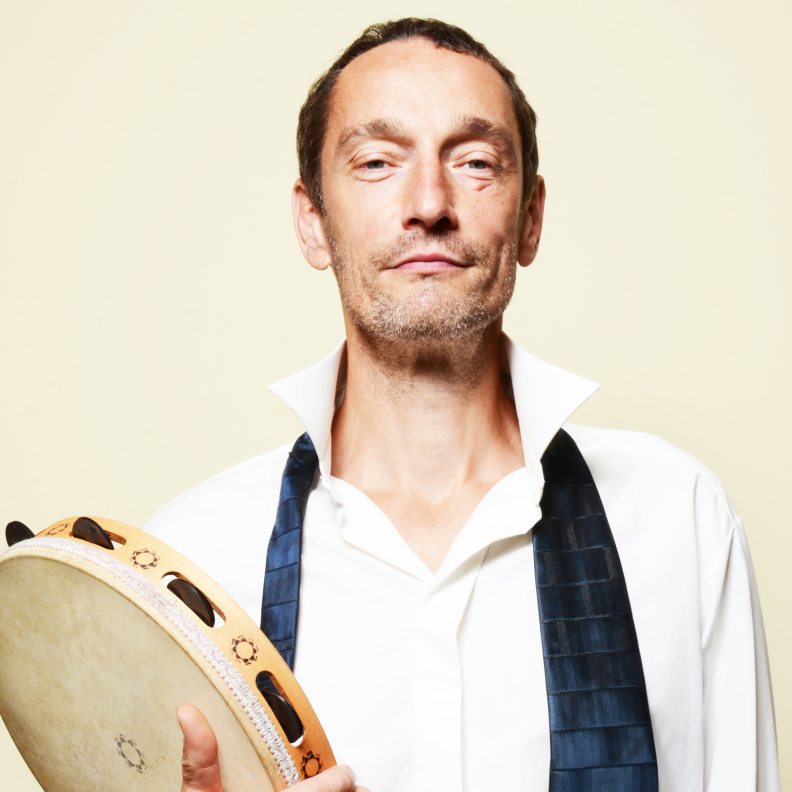 Michael Metzler (DE) spezialisierte sich auf historische Percussion, lernte an der Leipziger Musikhochschule, bei Hermann Naehring, Berlin, Ahmed Subhy in Kairo und Glen Velez in New York. Aussagekräftiger als die Liste seiner Lehrer ist mittlerweile die seiner Studenten, unter denen sich so herausragende Trommler wie Andrea Piccioni oder David Kuckhermann befinden. Er hat bei über 120 CD-Produktionen mitgewirkt und ist weltweit für Konzerte, Rundfunk-, Theater- und Filmmusiken unterwegs u.a. mit Joachim Schlömer, Theater Basel, Hebbel-Theater Berlin, Semperoper Dresden, Akademie für Alte Musik Berlin, Freiburger Barockorchester, Cecilia Bartoli, dem Bach Consort Wien, dem Hilliard Ensemble...Seit 2001 arbeitet er auch als Glockengießer für historische Glocken und Glockenspiele und betreibt ein kleines, feines Geschäft für Glocken, Percussions- und ethnische Instrumente. >>www.glockenladen<<
This spicy festival of salacity is made possible by the special program >> NEUSTART KULTUR <<  of the federal government of Germany.
Photocredits:
Das Photo der aktuellen Besetzung ist von:
Laelia Milleri, Ellen Schmauss, Herb Jung
Richard Lensit; Gorm Valentin, Ellen Schmauss
Das Ensemblephoto oben links auf dem Sofa ist von Julia Ortmann (Freiburg) und wurde am Tag unserer Premiere aufgenommen - herzlichen Dank, Julia!
v.l.n.r.: Michael Metzler, Katherine Christie Evans, Miriam Andersén, Per Buhre, Gesine Bänfer, Steven Player
Bitte beachten Sie die zur Zeit des Konzertes gültigen Hygieneregelungen der Bundesregierung für den >>Kunst- und Kulturbereich<<
The Early Folk Band has recorded a number of CDs with Deutschlandfunk Kultur and Südwestfunk. They are available from the Freiburg independent label >>ahalani-records<<
Information for Organizers:
This concert program is just as suitable for closed rooms as it is for corona-friendly open-air concerts. As a rainproof variant, we can provide a 6x4m tent as a stage backdrop and rain protection for the musicians. This has proven itself last year at our 30 Robin Hood concerts in the Black Forest, which the foundation "Art despite distance" of the Baden-Württemberg Ministry of Culture made possible. We provide umbrellas for the audience so that safety distances can be maintained.
For a photo of the ensemble please conctact Gesine Bänfer
Tel: ++49 172 - 76 46 178
Email: gesine-baenfer@posteo.de
Photocredits:
Elisabeth Freundlich, Ellen Schmauss, Caterine Cabrol
Gorm Valentin, Gorm Valentin, Ellen Schmauss
A special thanks to the Alehouse Boys, not only for lending us "their boys" Steven and Per, but also for the wonderful photos by Gorm Valentin!
The Early Folk Band - Old Spices 2022
The Early Folk Band is a project of Les haulz et les bas GbR based in Freiburg, Germany. The aim of the GbR is topic-based research, reconstruction and interpretation of historically informed music from the 13th century onwards. In addition, the GbR has set itself the task of making early music accessible to a wide audience. The GbR projects are organized by our music office: www.office-of-musicians-affairs.com
Contact Les haulz et les bas GbR
Managing Director Gesine Bänfer
Harriet-Straub-Str. 39
79100 Freiburg, Germany
fon ++49 - (0) 761- 29 23 110
mobile ++49 - (0) 172 - 76 46 178
office@gesine-baenfer.de
Tax number: 06487 / 45254
Tax Office Freiburg-Stadt