The Office of musicians' affairs represents Gesine Bänfer and Ian Harrison's music ensembles. "We know this charismatic musical duo as masterminds behind the ensembles Les haulz et les bas and the Early Folk Band". In 25 years of playing together they have initiated and directed a great many prestigious projects and played with international musicians all over the world - '"with untamed joy and a real appetite for experimenting with the musical material". (quotes by Lothar Jahn, minnesang.com)
Please take the time to read the concise information about our music projects, to listen to the music examples and look at the short films. A link will take you to the corresponding web site.
---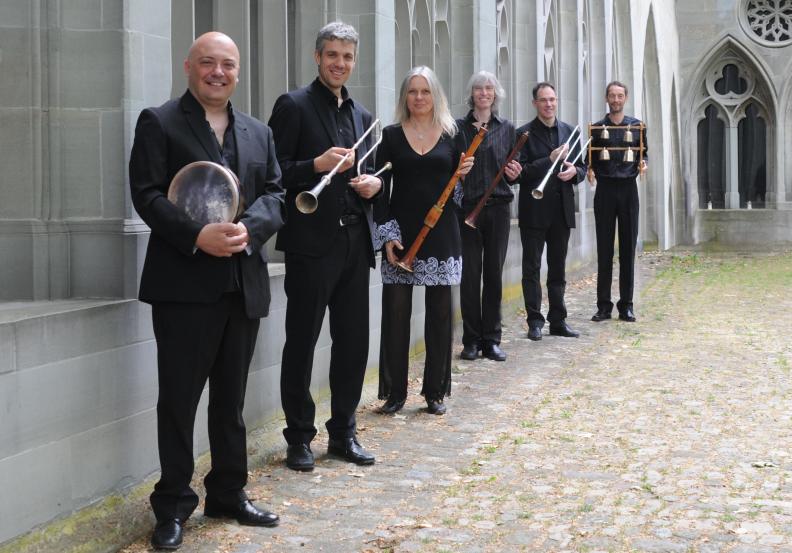 Les haulz et les bas plays music of the alta capella, the 'loud' wind ensemble of the middle ages and Renaissance. The rediscovery and reconstruction of the music of the mediaeval civic and court wind bands has been one of the great musical detective stories of our times. The results of the ensemble's work has acheived international acclaim: they have won prizes at several international competitions and they are regularly present in Europe's most prestigious Early Music Festivals. They regularly give lectures and workshops and have been guests of the Universities of Oxford, London and Manchester, the Royal Conservatory, The Hague and the Schola Cantorum Basiliensis. The ensemble has produced a series of highly-acclaimed CDs. Les haulz et les bas guarantees its audience an extraordinary and unforgettable experience. The ensemble offers a huge range of programmes from the 'classic' trio formation up to big-scale productions for larger venues and outdoor events. www.alta-capella.com
Questa fancuill' amor, Francesco Landini (ca. 1325 - 1397), Florenz, Biblioteca Medicea Laurenziana, Ms. Med.Pal.87 (Squarcialupi Codex) - Les haulz et les bas - Tamburi Mundi Frame Drum Festival 2018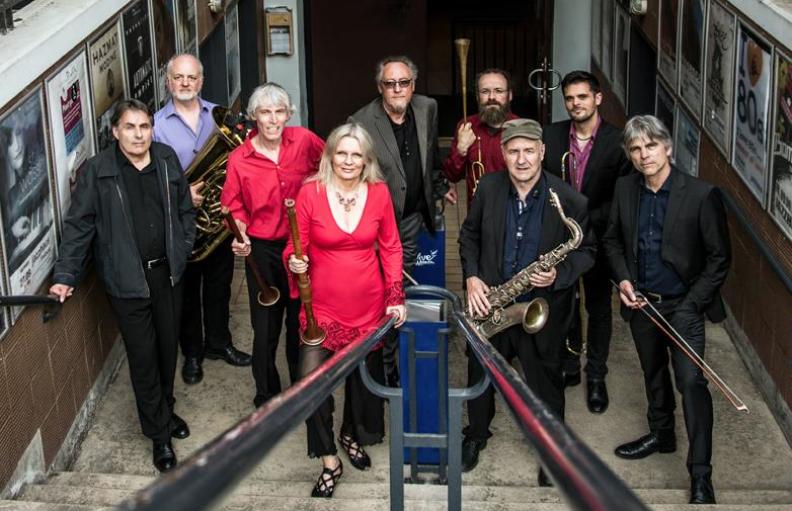 Medieval Jazz – new directions for early music
The forgotten sound of the alta capella - the medieval and renaissance wind band - lies at the historical heart of this project. Shawms, bombards, slide trumpet and sackbut are combined with a jazz combo of saxophone, guitar, double bass, tuba and drum set, and members of the ensemble themselves double on saxophone, trombone, cornett and bagpipes. Old material is newly arranged, new pieces composed for old instruments and all is delivered by a star-studded cast with lashings of improvisatory panache. Les haulz et les bas offer proof that the saxophone is the ideal instrument for the 14th-century ars nova and that the medieval shawm has just the sound that jazz has been waiting for. www.ars-supernova.com
With this programme Les haulz et les bas won a CD production with the German national radio station Deutschlandradio Kultur - now released by www.ahalani-records.
ars supernova im Jazzhaus Freiburg
Ballads, Songs and DanceTunes from the North Countries
The musicians of The Early Folk Band are all outstanding specialists in early music. Originally from England, Sweden and Germany, they bring with them the traditional music of their home countries as well as a great experience with the study and performance of music from the Middle Ages, Renaissance and Baroque. 'Folk Music' influences 'art music' and vice versa. The members of the group also won important competitions such as: Anders Wrath silver medal ('riksspelman'), Global Ruth (Germany's leading World Music Award), Grammy Award, Festival van Vlandern, Bruges, BRTN Radio Price (Belgium), Festival Rencontre Internationales de St. Chartier (France) "Best Blasters" and "Best Folk rock Band" of the German Popstiftung. www.early-folk-band.com
Olof Strangesøn - Rentzell Manuskript, 16th century - The Early Folk Band
Peckover Walk - Ledley Manuscript 1850 - The Early Folk Band
Riddles & Reels
Ian Harrison (GB/D) - Northumbrian Smallpipes, Whistles, Harfe, Fidel, Gesang
Gesine Bänfer (D) - Northumbrian Smallpipes, Whistles, Hackbrett, Old English Guittar, Gesang
Lee Santana (USA/D) - Cister, Barockgitarre, Laute, Gesang

Das Early Folk Trio interpretiert alte Rätsellieder und virtuose Folktunes von den britischen Inseln und old time Music aus Amerika.
Wedding Dress - (traditional Appalachian Folk Song) - ein rätselhaftes Lied um einen Heiratsantrag - The Early Folk Trio with very special guest Florian Döling am Kontrabass
Buy Broom Buzzems (as sung by William Purvis 1752-1832) - Jacky Latin (trad. Northumbrian) - The Early Folk Trio
Early Folk Music
Gesine Bänfer from Freiburg, Germany and Ian Harrison from Newcastle upon Tyne are an unusual duo. With their interpretation of old ballads and their virtuoso smallpipe and whistle tunes these two multi-instrumentalists are firmly established in the alternative, world and folk music scenes. In their duo programmes they present traditional riddle songs, ballads of lies and deception, and virtuoso instrumental music from the British Isles. www.early-folk-duo.com
Proud Lady Margaret - Scott's Minstrelsy, 1803 - The Early Folk Duo
Silvesternacht
a German ballad by Theodor Fontane (1851) to the melody von Grim King of the Ghost (1799) - The Early Folk Duo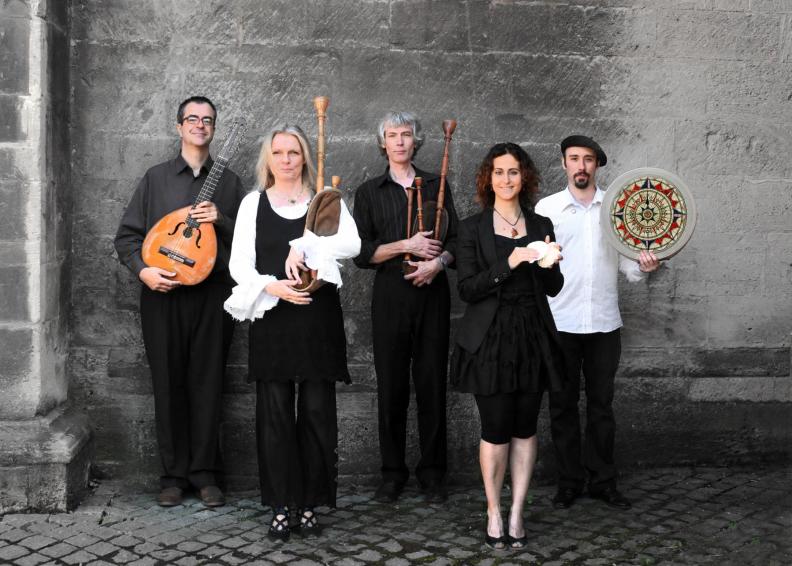 Music needs no Passport
Diego Escolano - laud, bandurria
Gesine Bänfer - gaita, cajatom
Ian Harrison - gaita, cornett
Vanesa Muela - voice, pandereita, adufe
Jonas Gimeno - pandereita, percussion
Gaitas are the traditional bagpipes of Galicia, Spains northwesternmost province. The earliest depictions of these instruments are in the manuscripts of the Cantigas de Santa Maria of King Alfonso el Sabio from the 13th century. Gesine and Ian are not only specialists in mediaeval and traditional music but also play their own compositions. The brilliant Vanesa Muela is one of Castille's leading folk singers. Her interpretations of the old traditional songs of her region such as the boleras, jota and albade da Tierrente open a window on past ages. She accompanies herself expertly on a range of percussion instruments including the adufe, an ancient square catskin drum, and the pandereita, the traditional tambourine of Northern Spain. www.vanesamuela.es
---
Hirundo Maris - Arianna Savall & Petter U. Johansen
Early Christmas Songs and Carols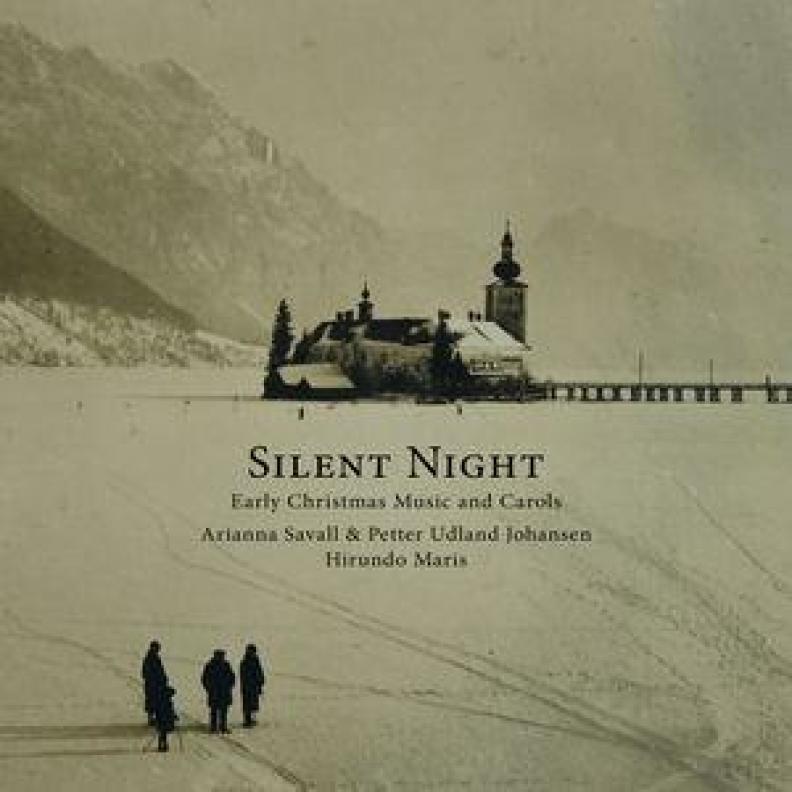 Die Musiker/innen von Hirundo Maris unter der Leitung von Arianna Savall und Petter Udland Johansen kommen aus vielen europäischen Ländern: Norwegen, England, Deutschland, Polen, Spanien und Katalonien. Dementsprechend ist diese Aufnahme ein Klangspiegel der vielfältigen musikalischen Traditionen der europäischen Weihnachtsfeier geworden. »Singen ist eine der besten Möglichkeiten, um Menschen zusammenzubringen. Es ist sehr spirituell. Wir können es nicht berühren, aber wir können es alle tief in unseren Herzen fühlen« (A. Savall)
Arianna Savall (E/CH) - Voice, harp
Petter Udland Johansen (N/CH)- Voice, fiddle
Gesine Bänfer (D) - Dulcimer, whistles, bagpipes, shawm, voice
Ian Harrison (GB/D) - Cornett, whistles, bagpipes, shawm, voice

Two musical couples sing and play about love: songs of the Troubadours and Trobiaritz and instrumental music of the 12th and 13th centuries www.ariannasavall.com
contact form
Thank you very much for your interest. Please send us a message to office@office-of-musicians-affairs.com or fill in the contact form and order our newsletter.