THE EARLY FOLK DUO
"There grows a flower in our garden, they call it hope."
"Rue and Thyme" was written down bei Mrs Francis Habergham of Habergham, Lancashire in the 17th century from the singing of old people in the neighbourhood, published in "Northumbrian Minstrelsy", Newcastle upon Thyne 1882. Gesine Bänfer sings and plays a copy of the Dublin cittern by Paul Doyle. Ian Harrison plays a copy of the Wartburg harp by Fred Marschall.
THE EARLY FOLK DUO
"Singing will make a man laugh - and laughing long live will bring!"
This old song was particularly popular in England at the beginning of the 18th century and was published several times. We recorded a collage of the song as it appears in Tom D'Urfey's extensive and grandiose collection "Wit and Mirth" or "Pills to Purge Melancholy", as well as instrumental variations based on the version in "The Division Flute", which was published by John Playford and upgraded for Ian's Bagpipes. Enjoy!
Gesine Bänfer (D): English guittar, flageolet, Northumbrian smallpipe, dulcimer, voice
Ian Harrison (GB/D): Northumbrian smallpipe, flageolet, cornett, harp, voice
Gesine Bänfer from Freiburg, Germany and Ian Harrison from Newcastle upon Tyne, England have established a formidable reputation in the international Early Music scene.  With their virtuosity and improvisatiory skills, their great interest in living musical traditions and their deep knowlege of the musical sources they have created new styles, 'set new standards' and 'redefined' their instruments.  They have won prizes at the Bruges Early Music Festival, the Rencontres de Maitre Sonneurs at St. Chartier and the Deutsche Popstiftung.  The international press have described their performances as 'electric', 'captivating', 'extatic' and 'unique'.
Brexit Rant
Played by Ian Harrison (Northumbrian smallpipe) and Gesine Bänfer (cittern). Enjoy!
Riddles and Reels
In their programme Riddles & Reels the Early Folk Duo present riddle songs, folk ballads of lies and deception from the middle ages, renaissance and baroque, and virtuoso instrumental music from the British Isles.
---
Songs of Lies and Deceit
The timless themes of lies and deception are at the heart of this programme.   On the video: Berwick Lasses and Peckover Walk from the manuscript of Lawrence Leadle y of Helperby, Yorkshire.
---
Borderlines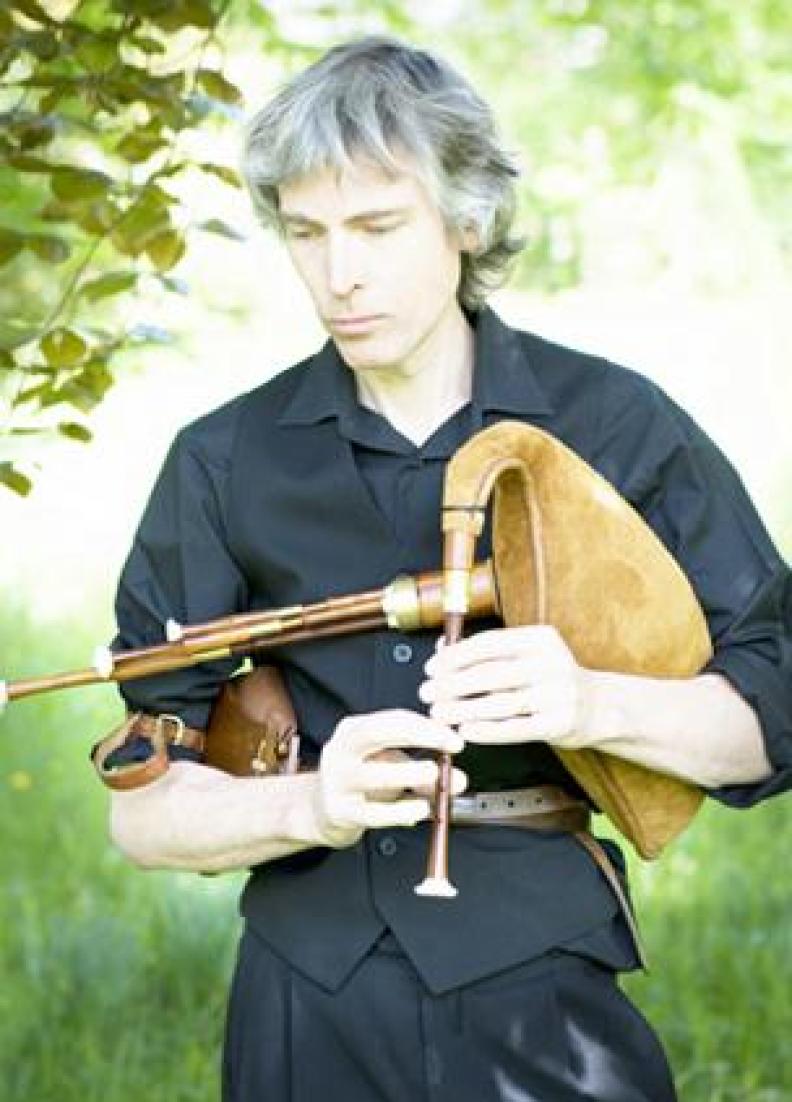 Early & traditional music from Northumberland
Northumberland is England's most northerly county, bordering Scotland, and the home to the only English bagpipe with a continous playing tradition.  Ian plays an 18th-century-style Northumbrian smallpipe made by Mike York and a Border pipe by Jonathan Swayne.  His unique and inspirational playing style combines elements from many world bagpiping traditions - including Northumbrian, Border and Highland Scots - with renaissance and baroque insights gained from his studies at the Royal Conservatory, The Hague and at the Schola Cantorum Basiliensis (where he now teaches historical bagpipes).  His moving, virtousic interpretations of the old and traditional tunes of his native Northumberland fill his audiences with nostalgia and wanderlust. Gesine Bänfer accompanies him on this journey on the cittern, the flageolet and the Northumbrian smallpipe.
---
Magic Pipes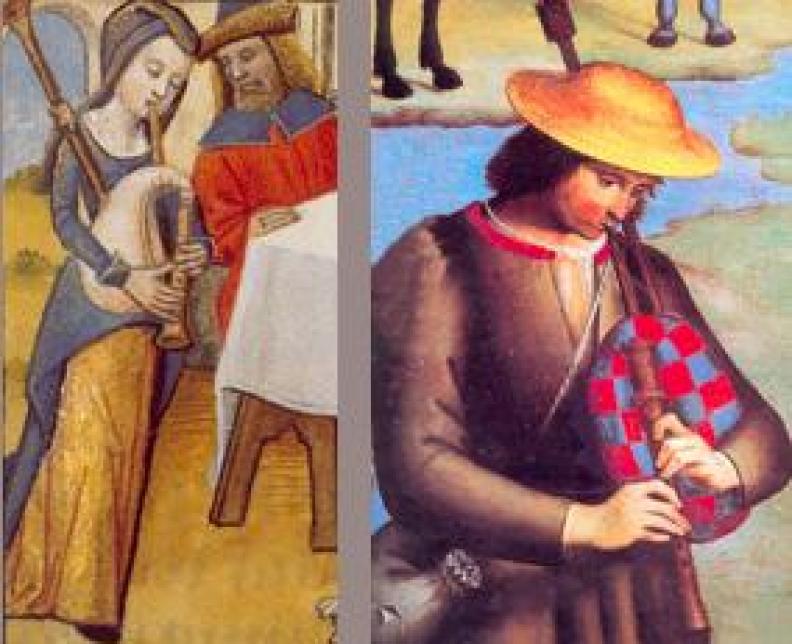 Great entertainment with bagpipes: in this musical conversation Gesine and Ian play bagpipes from all over Europe, including Galician Gaitas,  Northumbrian smallpipes and Scottish Highland pipes, they tell legends and stories about the bagpipe, and like the ballad-mongers of old they illustrate it with historical depictions of this legendary instrument.
Piva (Giovanni Ambrosia Dalza, 1508)  Gesine & Ian mit ihren Gaitas begleitet von Andrea Piccioni & Michael Metzler
Let no Man steal your Thyme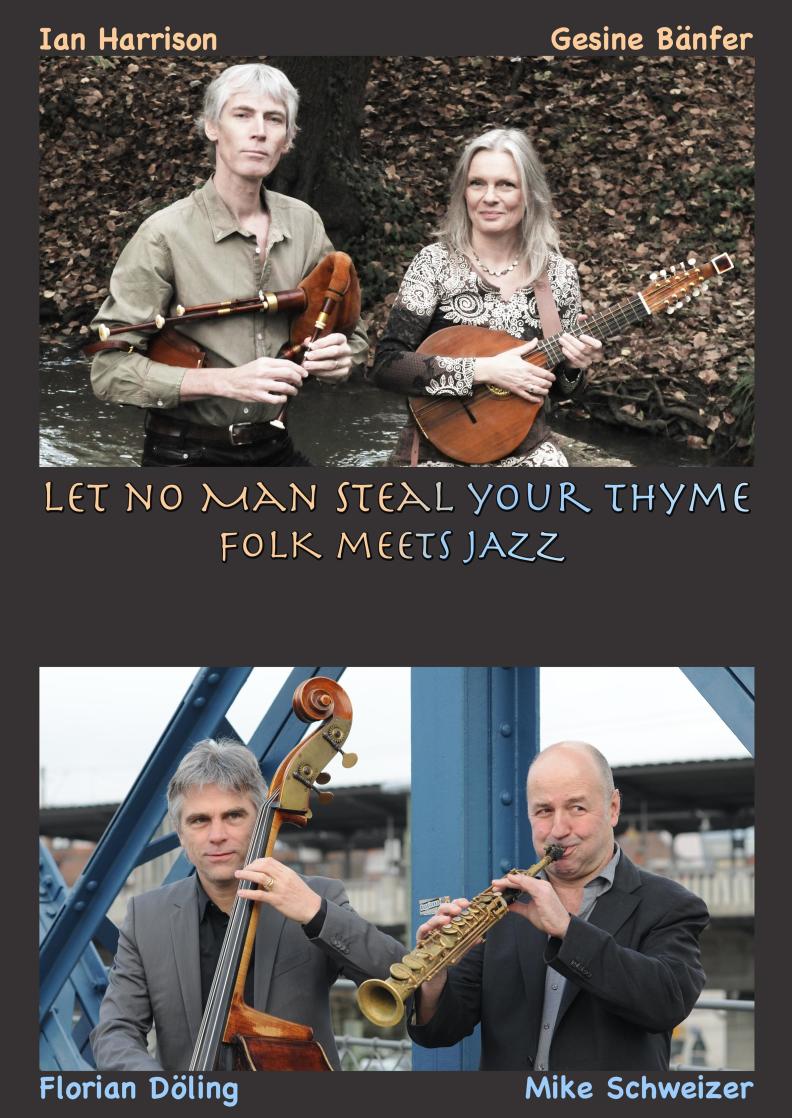 Folks meets Jazz - inspired by one of the oldest English ballads Let no man steal your thyme, the quartet performs some of the most beautiful and virtuoso songs and tunes from Ian's native Northumberland and builds on the folk/rock/jazz grooves of the 1970s.
Gesine Bänfer - old English guitar, voice, whistle, Northumbrian smallpipe
Ian Harrison - Northumbrian smallpipe, harp, voice, cornett, whistle
Mike Schweizer - saxophones, bass clarinet
Florian Döling - double bass
I gave my love Cherry
Gesine Bänfer - voice, cittern
Ian Harrison - voice, washboard
Mike Schweizer - soprano saxophone
Florian Döling - Double bass
very special guest: Lee Santana - cittern
Retrove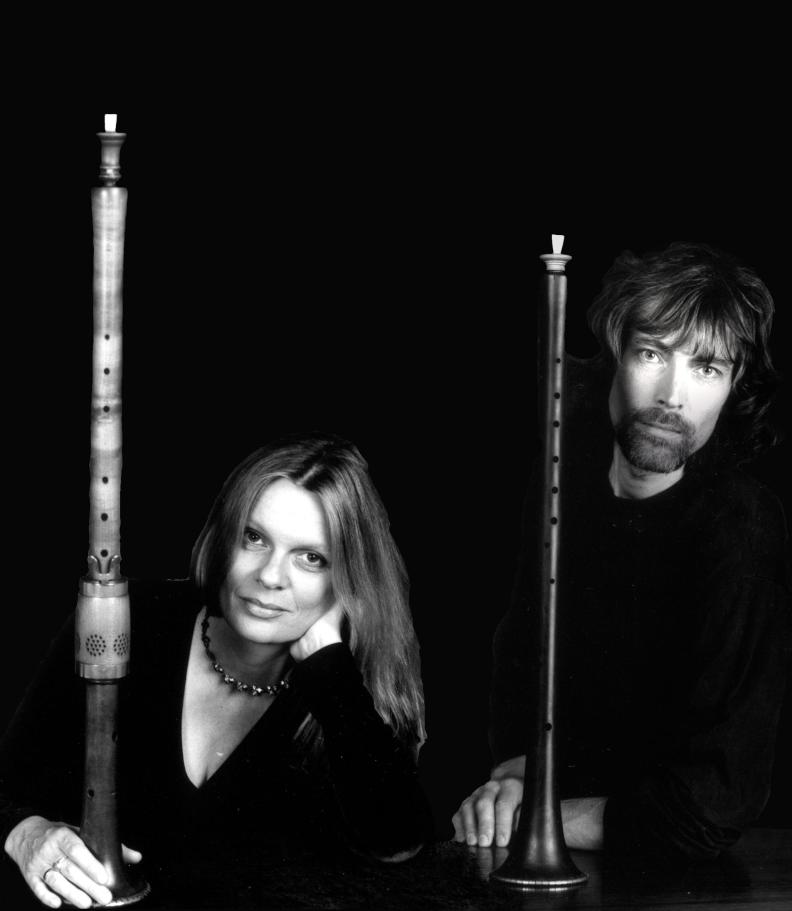 Gesine Bänfer (D) - shawm, bombard, bagpipe, dulcimer, voice
Ian Harrison (GB) - shawm, bagpipe, harp, voice
Early music rediscovered
A guided tour of the loud and soft instruments of the Middle ages with Gesine Bänfer and Ian Harrison, presenting the instruments, the music and the stories behind them. The shawm and bombard were played by the waits, the town musicians who were paid to signal daybreak and nightfall, and to play for tournaments, processions and the 'magnificent banquets of the nobility'. On the bagpipe, they present music from the dance houses of the middle ages and renaissance. The soft instruments such as recorder, harp, dulcimer and fiddle were played in more intimate circumstances, in bath houses and in gardens, in small chambers and in noble bedrooms.
Robertsbridge Estampie
Ian Harrison - shawm
Gesine Bänfer - bombard

Danse de Cleves
Ian Harrison - harp
Gesine Bänfer - dulcimer