THE EARLY FOLK BAND
Robin Hood und his Band in Freiburg
"Kunst trotz Abstand" - Art despite distance

The Baden-Württemburg Ministry for Science, Research and Art has made a grant to The Early Folk Band as part of its impulse programme Kunst trotz Abstand to perform 10 days of concerts during the summer holidays with the theme Robin Hood and his Band in the woods of the State of Baden-Württemburg.
Order form for free tickets to the Robin Hood concerts
Many thanks for your interest. You can order your free tickets for your chosen concert and send us a message here. For more information about the concert programme and the Band please click on the link below.
Your data will be kept for a maximum of 4 weeks. Data will only be released to and at the request of the local Health Department. It will not be made available to anyone else.
Special thanks to the Forstamt Freiburg, the Autofrei-Verein Vauban, the Heilpflanzenschule im Jesuitenschlössle, the Studierendenwerk, and the Amt für Liegenschaften for their uncomplicated support for our project. And extra special thanks to the Baden-Württemberg Ministry for Science, Research and Art, which has made the performances of Robin Hood and his Band possible due to a grant from the impulse programme Kunst trotz Abstand.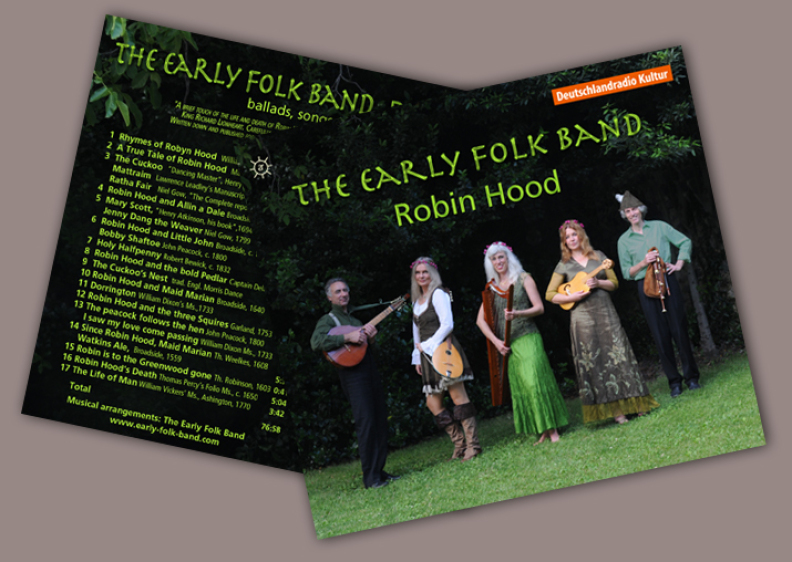 The CD Robin Hood is a co-production between The Early Folk Band and the German national radio station Deutschlandradio Kultur. Ballads, songs and dance tunes of the famous Outlaw. The CD appears on the Freiburg independent label ahalani-records.